It is difficult to think of a more "Albertan" vehicle than the Ford F150. We at Windshield Surgeons Auto Glass have been replacing windshields on Ford F-Series trucks since we first opened our doors in 1989. There is no vehicle that we service more often than F150's, whether it is at our locations in Edmonton, Red Deer, Calgary, or Sherwood Park.
F150 Installation Facts:
Through most years of production, the same windshield fits into matching years of the F150, F250, and F350 Ford models. When there is a difference, it is usually a specialized decorative F150, Super Duty, or Ford emblem in the 'third visor' behind the rearview mirror (see photo below). These emblems are purely cosmetic and make sourcing the glass more expensive so most people opt for the logo-free option that is available communally for these vehicles. Although windshields without the Ford emblems are often significantly less costly, they hold the same quality, clarity, and fit as the windshields with a decorative emblem. In fact, these are the windshields that the Ford dealerships have us install into the thousands of vehicles that we service for them each year. There is of course nothing wrong with choosing the emblem and loving the look of the logo!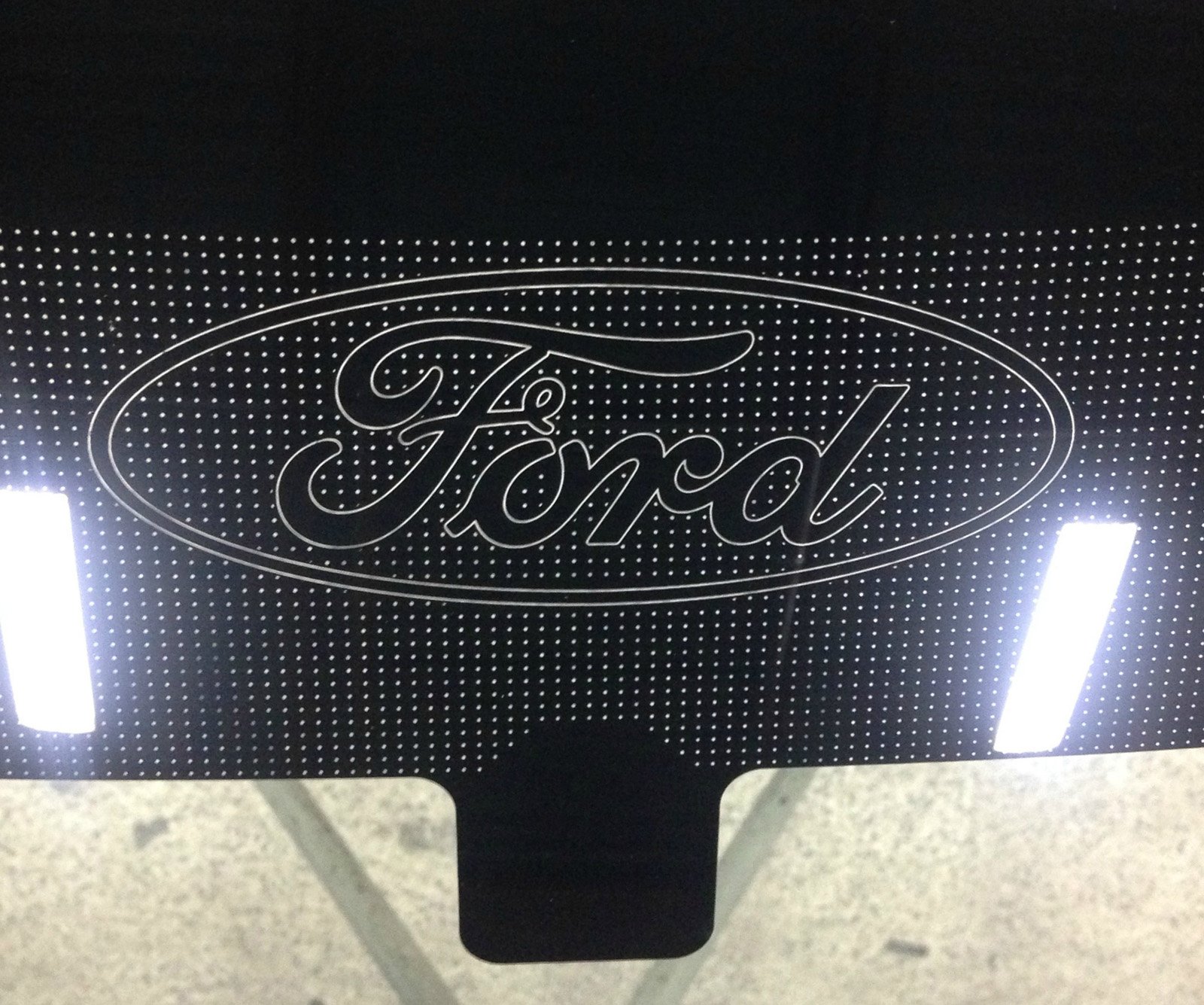 Like most vehicles, F150, F250, and F350's have a large cowl (plastic trim that sits in front of the windshield). This, along with the windshield wiper arms and rear view mirror, are removed prior to the windshield replacement. Additional optional parts that may require removal include a rain sensor (water sensor to automatically activate your wipers) and a lane departure warning system (beeps and/or vibrates when you change lanes without signalling).
Following the replacement of a crystal clear new windshield into this F150, the installer carefully reattaches the removed vehicle parts and prepares it for presentation. Windshield Surgeons Auto Glass' certified installers are familiar with all of the glass parts surrounding Ford vehicles.
Windshield Surgeons and Ford F150s
We both stock and install windshields for Ford F Series pickups, all the way back to 1967.  Being the most popular vehicle in North America, Ford F Series trucks are the most common vehicles that we service, and have been one of the most common vehicles serviced by Windshield Surgeons since the family business opened in 1989.
Windshield Surgeons is the automotive glass provider for the largest Ford dealerships in Alberta and we likely service more Fords each year than any other company. A little known fact is that when we service a vehicle on behalf of a dealership, or their clients, we provide both the glass and installation services. Many believe that somehow servicing their windshield at a dealership provides 'better' glass or workmanship; when in fact, Ford dealers rely on us to supply and install their replacement needs. We are convenient, we care, and the glass we stock is sourced from OEM and OEM approved suppliers who meet the standard that dealers require.
Trust the name that dealerships trust. Servicing Alberta since 1989, complete with our lifetime warranty on workmanship.
— Windshield Surgeons Auto Glass.